Purpose:
"To preserve covered bridges. To gather and record knowledge of the history of covered bridges. To collect and preserve pictures, printed, and manuscript matter and other articles of historical interest concerning covered bridges. To do all things, alone or in cooperation with other persons or corporations, necessary or advisable to carry out any or all of the foregoing purposes and objects."
Meetings: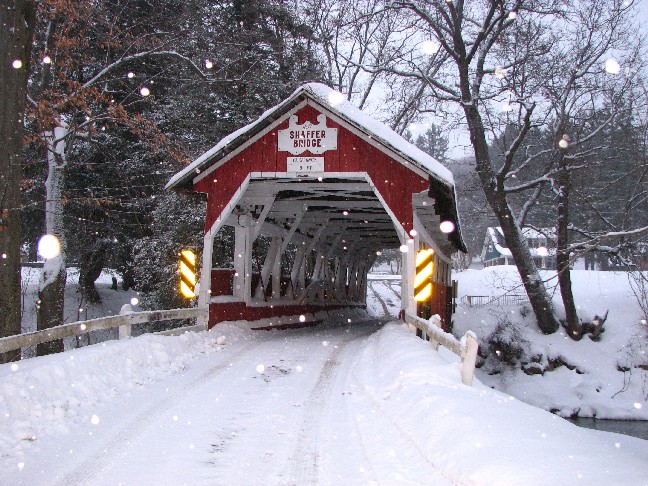 Our monthly meetings are held in various locations, usually in New England, March through October.
Next meeting: Sunday, April 26, 2015 at the Harvard Historical Society Meetinghouse, 215 Still River Road, Harvard, MA. Map.
There will be a presentation by Terry Miller and Ron Knapp, authors of America's Covered Bridges: Practical Crossings, Nostalgic Icons. In addition to the marvelous photos by Chester Ong, the book includes many photos from the NSPCB archives.
Publications:
World Guide to Covered Bridges!
For those who already have a current World Guide, an update is available in PDF format.
The update has additions and corrections as of February 18, 2015.
Topics, a quarterly containing research articles about covered bridges past and present. For those researching covered bridges, an index to all Topics issues (1943-present) is now available.
Our Newsletter informs members of society events and covered bridge news.
The
Winter 2015
newsletter was posted on March 12.
Projects:
Covered bridge projects throughout the US and Canada.
NSPCB Project - Sanborn Bridge in Lyndonville, Vermont.
NSPCB Project - Moose Brook Pony Truss Bridge in Gorham, New Hampshire.
Not a member? Join today or renew your membership online using Paypal.
NSPCB is on Facebook.