For 2021, the NSPCB has produced a calendar focusing on truss designs with existing examples of each.
Each month of the spiral-bound wall calendar features an 8½" x 11" photo of one or more bridges and their trusses. Captions include brief descriptions of the trusses.
Order yours today! $15 by mail to U.S. and Canadian addresses or $10 at our meetings and events.
Use the "Add to Cart" button below to pay by PayPal or send a check or money order made out to NSPCB to Jennifer Caswell, 535 Second NH Tpke, Hillsboro, NH 03244.
Bowstring truss - Germantown Bridge (OH/35-57-01), Ohio.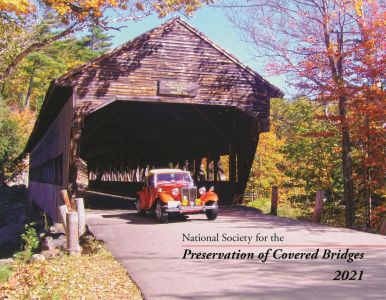 Burr truss - West Union Bridge (IN/14-61-27), Indiana.
Childs truss - Brubaker Bridge (OH/35-68-06), Ohio.
Haupt truss - Bunker Hill Bridge (NC/33-18-01), North Carolina.
Howe Truss - Hartland Bridge (NB/55-02-07), New Brunswick; Pengra Bridge (OR/37-20-15#2), Oregon; Elizabethton Bridge (TN/42-10-01), Tennessee.
Kingpost truss - Roddy Road Bridge (MD/20-10-02#2), Maryland.
Long truss - Robyville Bridge (ME/19-10-02), Maine.
McCallum truss - Powerscourt Bridge (QC/61-27-01), Québec.
Multiple Kingpost Truss - Phillips Bridge (IN/14-61-12), Indiana.
Paddleford truss - Hemlock Bridge (ME/19-09-02), Maine.
Partridge truss - Upper Darby or Pottersburg Bridge (OH/35-80-01), Ohio.
Queenpost Truss - Lost Creek Bridge (OR/37-15-03), Oregon.
Smith truss - Cataract Falls Bridge (IN/14-60-01#2), Indiana.
Town truss - Ashuelot Bridge (NH/29-03-02), New Hampshire; Pier Railroad Bridge (NH/29-10-03), New Hampshire; Pont Savoyard (QC/61-25-15), Québec; Fisher Railroad Bridge (VT/45-08-16), Vermont; Bath-Haverhill Bridge (NH/29-05-04), New Hampshire.