Each month of the spiral-bound wall calendar features an 8½" x 11" photo of one or more bridges taken by our members with historic photos from the Society's collection. Captions include brief descriptions of each bridge. This year's calendar also includes a page celebrating the 60+ year career of Arnold Graton.
Order yours today! $13 by mail to U.S. addresses or $10 at our meetings and events.
Use the "Add to Cart" button below to pay by PayPal or send a check or money order made out to NSPCB to Jennifer Caswell, 535 Second NH Tpke, Hillsboro, NH 03244.
January - Kintersburg Bridge (PA/38-32-05), Pennsylvania.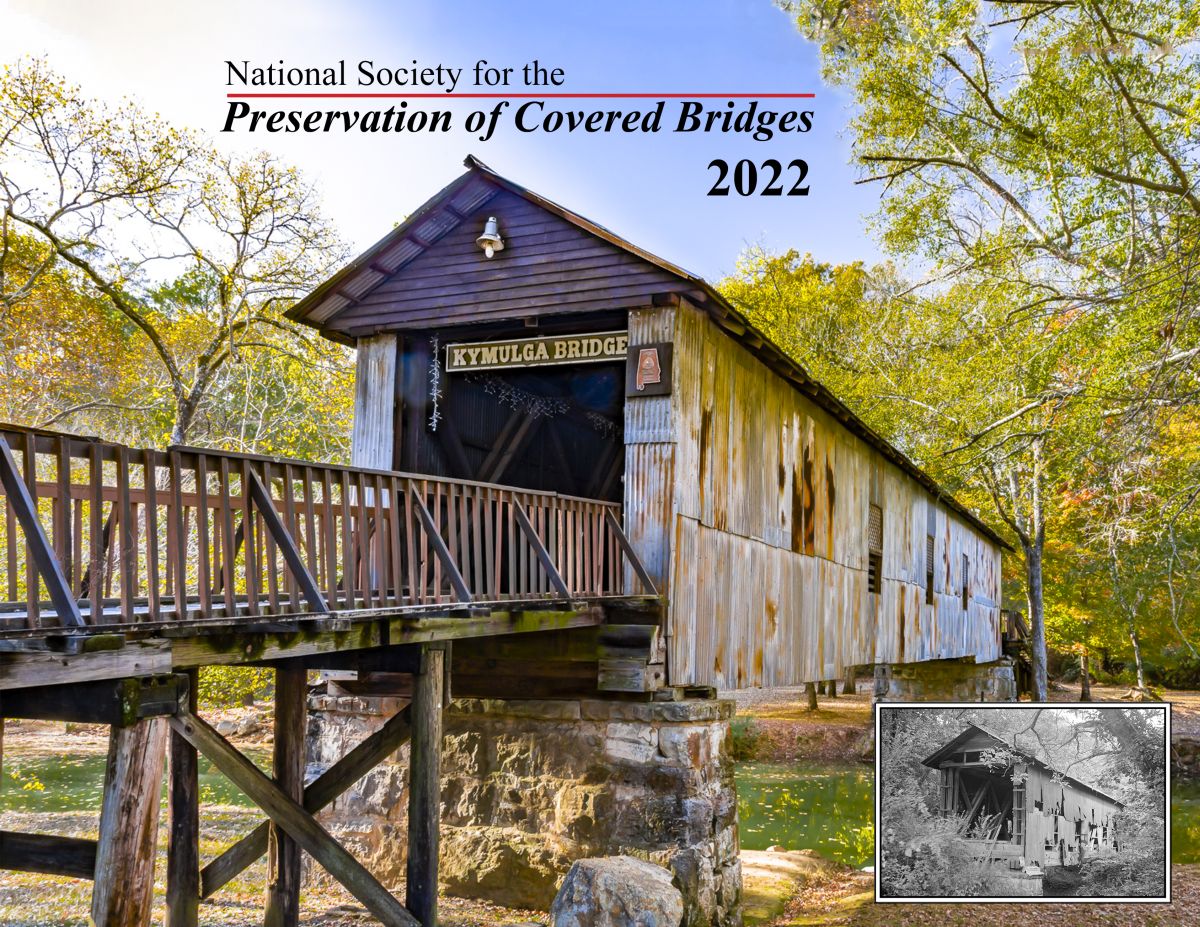 February - Dixon Branch Bridge (OH/35-68-04), Ohio.
March - Cilleyville or Bog Bridge (NH/29-07-01), New Hampshire.
April - Rexleigh Bridge (NY/32-58-03#2), New York.
May - Celebration of Arnold Graton's 60+ year career.
June - West Cornwall Bridge (CT/07-03-02), Connecticut
July - Bissell Bridge (MA/21-06-04#2), Massachusetts.
August - Stoughton or Titcomb Bridge (VT/45-14-04), Vermont.
September - Cumberland or New Cumberland Bridge (IN/14-27-01), Indiana.
October - Cambridge Junction or Poland or Station or Kissing Bridge (VT/45-08-02), Vermont.
November - Spencerville Bridge (IN/14-17-01), Indiana.
December - Owens or Red Bridge (IA/15-77-01), Iowa.
January 2023 - European Howe Truss Bridges.