nspcb.winter04
January - February - March - Winter 2004
Newsletter
National Society for the preservation of Covered Bridges
Incorporated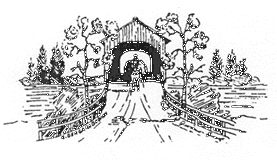 David W. Wright, President
P.O. Box 171
Westminster, VT 05158
(802) 722-4040

Mrs. Christine Ellsworth
Corresponding Secretary
44 Cleveland Ave.
Worcester, MA 01603
(508) 756-4516
Carmela Sciandra, Newsletter Ed.
P.O. Box 398026
Cambridge, MA 02139
E-mail: croses@hotmail.com

Send dues to:
Pauline Prideaux
Membership Chairperson
143 Freeman St. Extension
Haverhill, MA 01830-4659
E-mail: sanibel93@aol.com
Richard Roy, Historian
73 Ash Street
Manchester, NH 03104-4906
(603)623-8406
Email:dickroycb1@juno.com
KC Klingensmith, Newsletter Ed.
P.O. Box 425193
Cambridge, MA 02142
E-mail: kc@ilp.mit.edu


David Topham, Treasurer, Nov thru April only: 11707 Oakmont Ct., Fort Myers, FL 33908-2825 239-433-1551;
May thru Oct: 45 Village Way No. 50, Rockport, ME 04856-3805, 207-596-7472

MEETINGS and EVENTS for 2004
Sunday, March 28 at 1pm Meeting will be held at the Plymouth Church, 87 Edgell Road, Framingham MA.
Sunday, April 25 at 1pm Meeting will be held at the Plymouth Church, 87 Edgell Road, Framingham MA.
Saturday, June 5 NSPCB 50th Anniversary Celebration. See below for more information.
NEWSLETTER DATES


The next newsletter is scheduled for April 2004. Therefore, anyone wishing to submit any photos, articles, etc. should submit them to Carmela or KC by March 20, 2003. Any newspaper or magazine articles must include source information and details (such as name of publication, date, etc.). Electronic submissions are preferred. THANK YOU!

A MESSAGE FROM YOUR PRESIDENT
Dear Fellow Members, Greetings!!
My report to you this quarter will be fairly brief, for a number of different reasons, the principal one being the press of much other business. This having been said, please permit me to express the hope that all of you have had happy holidays. I also want to wish each and every one of you a Most Happy New Year, however belatedly.
And now to the bridges:
The Contoocook Covered Railroad Bridge: As previously reported in the Fall issue of the President's Message, work is proceeding at the Contoocook Covered Railroad Bridge. Tim Andrews, of Barns and Bridges of New England, has, after a certain amount of searching, been able to locate and purchase a sufficient number of absolutely first class Southern Pine timbers out of which he intends to fabricate new Corbels for the span.
(The Corbels that are presently in place under this bridge have largely rotted away because all four corners of the Contoocook span were once buried in sand, gravel, and trash.)
Tim has also transported the two great steel I-Beams with which the Bog or Cilleyville Covered Bridge was supported during its restoration down to the Contoocook span, and installed them there, At Contoocook, these I-Bearms will soon be made use of to hold up the trusses of the bridge while the above mentioned deteriorated Corbels are extracted and replaced. Once the weather improves, that is to say, once it warms up a bit, work in and about the structure will go forward in earnest.
The Bath-Haverhill Covered Bridge: The consultations regarding this span which are part and parcel of the 106 process continue. (Please see the Fall 2003 issue of the Newsletter for an explanation of the National Society's role in these consultations.)
As a result of the consultations in question, certain decisions regarding repairs to the Bath-Haverhill span have tentatively been arrived at, whereas others are still very much pending.
As explained in the Fall issue of the Newsletter above referred to, for the moment, the proper place for the National Society to be expressing its views as to what ought to be done, or not done, to the Bath-Haverhill span is within the confines of the main conference room down at the John O. Morton Building in Concord, New Hampshire. (For those of you who do not know, the John O. Morton Building in Concord is the "seat" of the New Hampshire Department of Transportation.)
The 106 meetings during the course of which repairs to the Bath-Haverhill Covered Bridge are being discussed, have been, and in principle will continue to be, hosted by the New Hampshire Department of Transportation.
When finally it becomes clear how the Bath-Haverhill span is going to be repaired, I shall make a full and complete report to members on this subject, at that time, letting the chips fall where they may. At that time, in other words, I shall spare no one's ox, be he friend or foe, nor anyone's feelings. For the moment. However, it is silence that is appropriate.
One final matter: In the December issue of Yankee Magazine, on page 12, to be exact, there is an interesting article about our remaining Covered Wooden Bridges. This article manages to highlight many of the ever so vexing questions which invariably arise anytime one contemplates repairs to an existing 19th or early 20th century Covered Wooden Span. I recommend the article in question highly to all of you.
Happy Bridging!!
Sincerely, Your President, David W. Wright

SAVE THE DATE !!
By Pauline Prideaux
The National Society for the Preservation of Covered Bridges is celebrating its 50th Anniversary. We will be having a Covered Bridge Safari on June 5th in the Concord, NH area. We will meet at 9a.m. and have a day of bridging. After the safari, we will meet and have dinner served by The Order of Eastern Star. There will be photo books of bridgers' travels, raffles, covered bridge "must have" items and a night of education by area experts in the art of bridge building. More information to follow. Below is information on accommodations to make your plans.
Hope you can join us in this commemorative year celebrating 50 years of Covered Bridging!
Elmwood Motor Lodge - - - - - - - - - - 603-796-2411 or 603-796-2828
Daniel Webster Motor Lodge - - - - - - - 603-796-2136
Best Western - - - - - - - - - - - - - - - - - 603-228-4300
Comfort Inn - - - - - - - - - - - - - - - - - - 603-226-4100 or email nhcomfort@aol.com
Concord Chamber of Commerce - - - - - 603-224-2508

If I can be of any help, please contact me at Sanibel93 @aol.com or 978-374-3001.

Comstock Covered Bridge Update
By Sean T. James, P.E.
The Vermont Agency of Transportation (VTrans) recently completed the rehabilitation of the Comstock Covered Bridge in Montgomery, VT. Hoyle, Tanner & Associates, Inc. (HTA) provided inspection, rehabilitative design and on-call construction consultation for the project. The bridge was in poor condition after a recent flood and had heavy racking of the trusses and up to 12 inches of sweep in the bottom chords of the truss caused by water pressure during the flood.
The rehabilitation included minor repair or replacement of deteriorated truss members, realignment of the trusses, installation of approach railing, new floor beams and deck and a new metal roof. VTrans and HTA made a concerted effort to retain as much original fabric of the bridge as possible and only those sections of the bridge that could no longer serve their structural function were replaced.
Sean T. James, P.E.
Project Manager
Hoyle, Tanner & Associates, Inc.
150 Dow Street
Manchester, NH 03101
Phone: 603-669-5555
Fax:603-669-4168
mailto: sjames @ hta-nh.com http://www.hoyletanner.corn/
| | |
| --- | --- |
| | |

September 28, 2003 NSPCB Meeting at the Bennington, VT Museum
The minutes of the previous meeting were read and accepted (Motion: Pauline Prideaux; Seconded: Joye Olson). Passed unanimously.
23 members and guests attended the meeting held at the Covered Bridge Museum in Bennington, VT. David Wright called the meting to order and talked about the trip to Kentucky by David Fischetti, Tim Andrews and Arnold Graton. All three were made Colonels by the State of Kentucky.
It was mentioned that Bruce Laumeister and John Dostal began the Museum in Bennington, Vermont. In the course of the meeting Bruce asked if we had any suggestions as to what we thought of the Covered Bridge section of the Museum. Several of the members talked to Bruce and several suggestions were talked about. It was mentioned that about 600 covered bridges were located in Vermont at one time.
Dick Roy presented a large black and white photograph of the Green River Bridge in Guilford, VT to the museum. Mary Shaub took the photograph.
A copy of the new book, Images of America Series, Maine's Covered Bridges Past and Present, will be available at the annual meeting. This book is an excellent photographic description of covered bridges in Maine. Joseph Conwill, editor of Topics has done an excellent job in producing this book.
Victor R. Rolando talked about his connection with Richard S. Allen, iron furnaces and iron foundries. He mentioned how generous Rick was and answered many questions for everyone he met. Rick has had some minor strokes and asked that any questions be in written form rather than on the phone.
Our latest lifetime members were at the meeting and introduced to the membership. They are Charles and Evelyn Lovastik (No.'s 139 and 140).
It was mentioned that the Shushan was the only and first Covered Bridge Museum. Shushan opened in 1975. Bennington Museum was the second Covered Bridge Museum. There was mention of another in Lancaster County, PA (Hersville Bridge).
There will be another book out "The Brothers of the Bridge" on covered bridges and their trusses. The book will be 356 type-written pages and is written by Frank Griggs Jr.
Work on the Contoocook Bridge will begin as soon as the material has arrived, which should be almost immediately. Tim Andrews is doing the work. He had to wait for long leaf southern pine and other materials which were needed.
The Society is responsible for up to $20,000 for the repairs. When finished it will be in stable condition. No Char and Protecto wire will also be added. The bridge, built in 1889, is the oldest remaining covered Railroad Bridge in existence.
There is a pony truss bridge in Tim Andrews's back yard, hopefully to be placed near Hopkinton RRCB. This Pony is from Arlington, MA and was given to the National Society by the Massachusetts Highway Department.
David Wright mentioned the report of the Haverhill-Bath Bridge. A report by David Fischetti on the stresses and many other points of stress in the structure were mentioned.
There was a motion that we purchase covered bridge pins for the 50th Anniversary for $153. (Motion: Dick Roy; Seconded: John Dostal.) Passed unanimously.
The Woodale Bridge in Delaware went down in a hurricane, also Delta Bridge in Iowa was arsoned. Another in Iowa was almost set on fire but was discovered and the fire put out.
The museum put on the video on covered bridges. They talked about the bridges and showed many very old photos and sayings. Many of the bridge pictures showed horses and wagons, old vehicles, and many damaged bridges.
Mr. Laumeister talked about the "Craft" types of trusses. They were shown and discussed in the "Planning a Bridge" section of the video. It discussed the town meeting, how much money to raise and what type of bridge and who is to build it.
It isn't easy being a covered bridge! With snow, a fire being set or happening accidentally, and sometimes having sideboards removed to let the water through in a flood . . . In the 1927 flood, the first week of November, 200 covered bridges were lost in Vermont alone. Now Vermont has about 100 left.
Respectfully Submitted,
Dick Roy
---
Henry Gurley Obituary: Christine Ellsworth let us know that Henry Gurley, one of our members, passed away on December 3`d. Henry and his wife Shirley have been members since 1981 and have gone on most, if not all, of the safaris. Our thoughts and prayers go out to his wife Shirley.

File Cleaning

Press Enterprise, Bloomsburg, PA, November 2003, Wind-toppled Tree Smashes Roof of Rare Forks Span. A tree damaged the roof of one of the twin covered bridges during high winds. The County Commissioner and president of the Columbia County Covered Bridges Association said even though the bill will be in the thousands of dollars, the bridge is fully insured, so it will be fixed. For more information, see http://www.pressenterpriseonline.com/291748788856459.bsp
Le Haut-Saint-Franqois, November 24, 2003, Gould Covered Bridge to be Restored. The McVetty-McKerry covered bridge, built in 1893 near Gould, in the municipality of Lingwick, will be restored over a four-year period. Closed to traffic for many years, it is the longest covered bridge in the region.
Stanstead Journal, November 27, 2003, Milby Bridge Closed. The Town of Waterville has just closed the Milby bridge upon the recommendations of the Quebec Ministry of Transport. It has been declared unsafe for motorized traffic. A recent inspection revealed that supporting beams under the bridge show considerable stress. The bridge, built in 1873, is located just off Route 147 between Huntingville and Compton and is one of the oldest covered bridges in the province.
Observer Dispatch, Utica, NY, September 29, 2003, Salisbury Bridge Project Progresses. A $153,000 federal grant has been received to repair Herkimer County's last remaining authentic covered bridge built in 1875. The work includes stabilizing the bridge as well as applying a fire retardant.
Post Star, Glens Falls, NY, November 5, 2003, Work on Bridge to Begin. A $1.7 million contract has been awarded to repair the Buskirks Covered Bridge which connect Washington and Rensselaer counties. The bridge has been closed since August 2002. County officials are planning to build a new bridge downstream on the Hoosic River.
Milwaukee Journal Sentinel, October 12, 2003, Covered Bridge Links Kickapoo Valley to a Greener Era. A new covered bridge crosses the Kickapoo River near LaFarge. For more information, about the Kickapoo Valley Reserve and its outdoor recreational opportunities, please see http://kvr.state.wi.us/home/
The Sun, Maryland, October 12, 2003, The Bridges of Lancaster County. This travel section story covers driving tours of the bridges of Lancaster County, PA.
---
CONTRIBUTORS: Dick and Jeanette Wilson, Gerald Arbour, Dick Roy, Ken Mauer, William Seip.

Rehabilitation of Two Bridges in Ashtabula County
by Donald Wiech
One bridge that is underway in Ashtabula County is the Warner Hollow Bridge. This bridge was boarded up due to very poor flooring and poor lower chords. Also one of the piers was replaced with a new concrete pier. The bridge also has been raised.


35-04-25: Warner Hollow
The other bridge which is underway is the Mechanicsville Bridge. I am sure that the lower chords will be replaced along with the damaged diagonals. A spring 2004 dedication is being planned.
35-04-18: Mechanicsville. Note: Arch ends at lower chords

50th ANNIVERSARY ITEMS AVAILABLE
We are very happy to have to offer this year a couple of items in commemoration of the 50th Anniversary of the National Society for the Preservation of Covered Bridges.
Tote Bag - Has the National Society for the Preservation of Covered Bridges emblem in dark blue on front pocket measuring 12 1 /2" by 15 1 /2" with a top snap and 20" handle straps. Available for $15 including shipping
Ornament -Also has the Society emblem. It's a 3" round glass maroon ornament with the emblem in gold. Available for $7 including shipping
Pens -They have "I love Covered Bridges - N.S.P.C.B." written on them. Available for $1.25 including shipping.
| | |
| --- | --- |
| | |
SPECIAL OFFER!!
You may want to have them all. One of each tote, ornament and pen will be available for $20 including shipping. They are great gifts for family, friends and other bridgers. We have a limited supply, so please order yours today.
PLEASE MAKE CHECKS OR MONEY ORDERS TO N.S.P.C.B. INC and mail to;
N.S.P.C.B. INC.
Pauline Prideaux
143 Freeman St. Ext.
Haverhill, MA 01830

NATIONAL SOCIETY FOR THE PRESERVATION OF COVERED BRIDGES INC.
Nominations of Officers for the year 2003-2004
President: David Wright, P.O. Box 171, Westminster, VT 05158
Vice President: Engineering Consultant, Lt. Colonel Wilbar Hoxie, 31 Green St., Reading, MA 01867
Vice President No. 2 Custodian of the Eastman-Thomas Fund, Director of Computer Programming, Roger Easton, RR 2 Box 919-D, Canaan, NH 03741
Vice President No. 3 Richard E. Roy, 73 Ash Street, Apt. 2, Manchester, NH 03104
Statutory Agent: Corresponding Secretary, Christine Ellsworth, 44 Cleveland Ave., Worcester, MA 01603
Treasurer: David Topham, 45 Village Way #50, Rockport, ME 04856, Joan Topham: Secretary
Director Expires 2004 Russell Whitney, 63 Baldwin Avenue, Framingham, MA 01701
Director Expires 2005 Pauline Prideaux, 143 Freeman St Ext., Haverhill, MA 01830
Director Expires 2006 Joseph Cohen, 130 Westfield Drive, Holliston, MA 01746
Submitted October 19, 2003 at the Annual Meeting at the French King Restaurant in Millers Falls, MA.
Respectfully Submitted,
Richard E. Roy

The following are items still available through the Society: All of the items below are available from June Roy, 73 Ash Street, Manchester, NH 03104-4906 or E-mail dickroycb1@Juno.com
---
The Book, Life in the Slow Lane is still available for $16.95 + $3.95 Shipping and Handling.
Books Available by Andrew Howard:
CB's of Madison County IA, A Guide . . . . . .$6.50
CBs of Connecticut, A Guide . . . . . . . . . . . . $5.50
CB's of Virginia, A Guide . . . . . . . . . . . . . . . $6.95
CB's of Bennington County VT, A Guide . . . $6.50
CB's of Massachusetts, A Guide . . . . . . . . . .$7.00
There is a $2.00 postage and handling charge for each book.
---
Covered Bridge Polo Shirts with N.S.P.C.B. Logo.

For a white Polo Shirt with a blue NSPCB logo, send $15.00 plus $3.95 for shipping and handling to June Roy, 73 Ash Street, Manchester NH 03104-4906. Specify, Medium or Extra Large. This is a fund raiser for the preservation fund. Buy several as gifts for your family and friends. Shirts are 100% pre-shrunk cotton.
Other available books from the Society Store
Covered Bridges of Vermont by Ed Barna. This is a book depicting all the covered bridges in Vermont in the year 1996. Postpaid $17.00 (From June Roy)
New Hampshire Covered Bridges, "A Link With Our Past," by Richard Marshall, color photos by Arthur Round. Excellent book on NH bridges. $20.00 plus $3.95 shipping and handling. Proceeds to Eastman Fund.
There is also an excellent book out on Vermont Covered Bridges called, "Spanning Time -- Vermont's Covered Bridges." You can get a copy by contacting Joseph Nelson, 2 Sugar Hill Road, Underhill VT 05489 or Visit >www.vermontbridges.com> Joseph Nelson is the President of the Vermont Society.
WORLD GUIDE or INDEX TO COVERED BRIDGE TOPICS
Both are now available on computer diskette in either Mac or PC format. Please specify your choice. The TOPICS index includes: Table of Contents for each issue, an index to subjects and authors, as well as more. The World Guide is kept up to date and in the regular format. Order your choice at $5.00 each from Joseph Cohen, 130 Westfield Drive, Holliston, MA 01746 from mid-April until mid-September. The rest of the year he is at 210 Wellington F, West Palm Beach, FL 33417.

Joe Nelson, P.O Box 267, Jericho, VT 05465-0267
This web site page was coded by J.C. Nelson. The content is the intellectual property of the
National Society for the Preservation of Covered Bridges, Inc. and its membership.
This file posted February 14, 2004